The SVD Dragunov model and texture was made by Zealotlee.
Location
Edit
Found on high level raiders, you can also buy one at the New Reykjavik Merchant
Weight: 20
Health: 600
Value: 350
Damage: 42
Ammo: 308cal (Subject to change)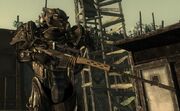 See Also:
Edit
The Melonpopper (Unique)
Ad blocker interference detected!
Wikia is a free-to-use site that makes money from advertising. We have a modified experience for viewers using ad blockers

Wikia is not accessible if you've made further modifications. Remove the custom ad blocker rule(s) and the page will load as expected.